Hemlock Pete's World-Famous Jerky
By Far the best jerky you will ever eat

Consume at your own risk

Definitely not a heart healthy snack

Ingredients: beef, salt, proprietary spices.
3 oz. package for $7.99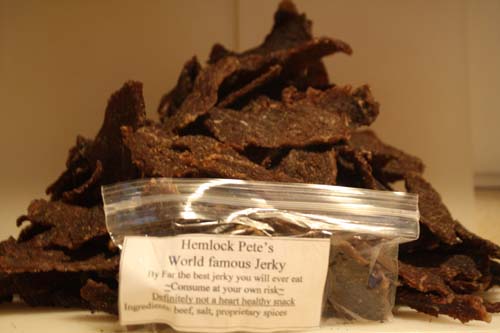 Available in limited quantities. If interested, let me know and I will put you on the contact list when a batch is produced.
I have been making my special beef jerky for many, many, years. Always giving it away during the holidays or at family gatherings, and of course on canoe trips. A trip would never be the same without it. It has been said that it is the ultimate cure for everything that ails you: the blues, the flu, common cold, arthritis, muscle aches, hangovers, etc., etc. Well, all I know is that it gets eaten as fast as I make it and people will do crazy things for a small bite. It has developed almost a cult-like following.
I remember one canoe trip many years ago on a mile-plus long portage. My friend Barry was trudging along, canoe on his shoulders and pack on his back probably wondering when it would end. To keep him moving, every so often I would put a piece of jerky and a strawberry twizzler on a rock in the middle of the trail. When he finally arrived at camp he asked why I had not put a piece of jerky with the last twizzler. What do you mean I said? There was a brief silence and then a confession from his wife saying she thought it was a piece of bark marking the twizzler and she threw it into the woods. No sooner did she get the guilty confession out of her mouth and Barry was on a dead run back up the portage trail.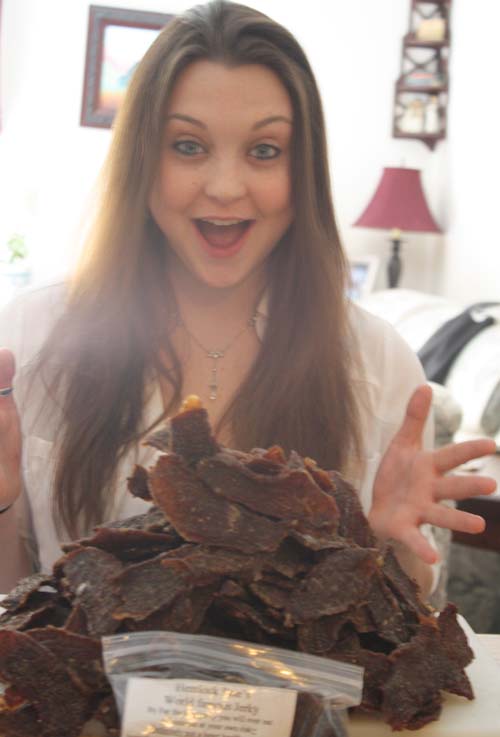 Yum, Hemlock Pete's World-Famous Beef Jerky!