Customer Comments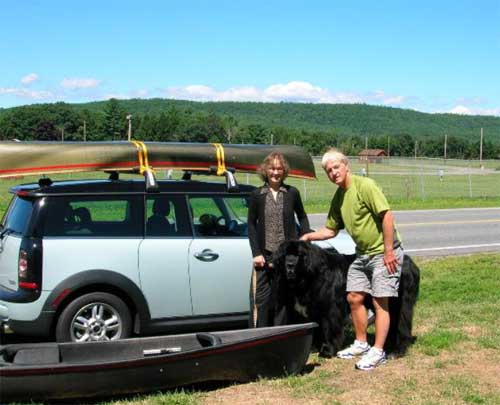 ..."We took the canoe out today for her (and our) maiden family voyage.....and it was flawless, effortless, fast, responsive-- a true and absolute joy to paddle! And to load! Thank you for helping us find the perfect boat for our needs!..."
-- Collen Warren, Burlington, VT
..."Scott is about the straightest shooter on the planet. He has always been rigorously fair, generous and gone beyond the call of duty in his dealings. He's a pleasure to work with and he has a good selection of canoes and gear. He's a meticulous craftsman himself, when it comes to repair and refurbishing. If you want the personal touch and someone who stands behind what he sells, this is your guy!..."
-- Jim Davidson, Rhinebeck, NY
..."Ah, Hemlock Pete – it's quite the operation. He'll sell you anything you need for the river, at a price no one else bothers to match. And if you bang it up, he's great at repairs. I've got the boats – new and banged – to prove it. Hemlock Pete is my first stop of the season, every year"...
-- John Rugge, Queensbury, NY
..."A place to buy a kayak or canoe with expert advice and great products. My wife and I have Kevlar Kestral kayaks and we love them. Lightweight yet agile and "seaworthy". Scott has helped us with a minor repair in footrest as well and helpful tips through the years. We have lightweight paddles too which make a difference"...
-- Peter K. Spiegel, Hanover, NH
..."We bought our first Lincoln kevlar 16-foot canoe from "Hemlock Pete" in 1988, and have added to the fleet with several other canoes and kayaks from "Pete," for family members throughout the years, to our present day use of the Hornbeck and Kestral kayaks, as well the original Lincoln 16-foot kevlar canoe. We have enjoyed the friendship and professional expertise of "Hemlock Pete" in purchasing these fine boats, but also enjoyed the on water experiences and guidance provided by "Hemlock Pete". He freely advises, consults and shares his true love and appreciation of the outdoors, being on the water. A "Hemlock Pete" experience is second to none"...
-- Barry & Deb LeBarron, Danville, VT
..."I can't think of a friendlier, more knowledgeable or honest paddle pal than Hemlock Pete. Back when my husband and I first began kayaking, he went above and beyond to introduce us to the sport, with not one lick of the condescension that too often mars the transfer of knowledge and skills from expert to beginner. Happy paddling, indeed – anytime with Hemlock Pete!"...
-- Nicole Cormen, Lebanon, NH
..."I had a wonderful experience buying a kayak from Hemlock Pete. He listened to what I needed to suit the requirements of an older person with limited skills on the water. He helped me with the choice of kayak and spent a lot of time showing me how to build skills in paddling, the best way to maneuver the kayak from my vehicle to and from the water, and he gave me the confidence to enjoy being on the river"...
-- Sue Martin, Piermont, NH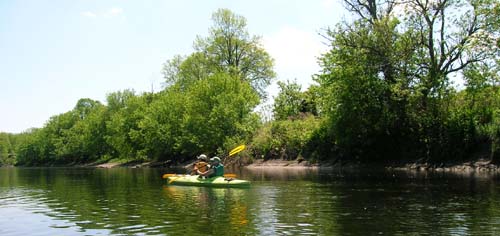 ..."As a kid I paddled canoes at summer camp and from time to time on local lakes and rivers. It wasn't until after graduating college that I got my first canoe, a 95-pound Old Town Discovery that we called the tug. It served us well fishing and on numerous canoe camping trips. As time went on, we seemed to paddle less, as it was such a chore to haul the canoe from the garage and hoist it onto the car. About 6 or 7 years ago I decided I wanted a solo canoe for 3-5 day camping trips and fishing. Some years earlier I'd met Scott thru local cycling events and he mentioned he owned a canoe shop called Hemlock Pete's. I visited Scott and described my needs. We looked at the options that Wenonah offered, and Scott helped me narrow it down to two boats and then let me make the final decision. I'd settled on a Wenona Wilderness in Kevlar, ... Scott said, "excellent choice, I've got one in stock, take it for a paddle and see what you think". The Kevlar boat was a bit of a splurge for me, but I gotta tell you after the first paddle stroke, I was smitten!
Several years passed paddling the Wilderness when I decided it was time to visit Hemlock Pete's again, this time to upgrade my Discovery. I told Scott I was looking for a new tandem canoe that I could do multi-day trips with on both lakes and rivers, something that would carry a load well and would be stable when the big waves kicked up on Lake Umbagog, additionally I wanted a boat that I wouldn't dread loading and unloading from the car. Together we narrowed down the options and I chose the Spirit II in Kevlar. Taking for a test paddle I only needed a few minutes in the Spirit II to know it was the right choice for me.
After a number of years of paddling my two Wenonah's on a variety of trips, on calm and in some pretty rough conditions, I've never questioned my choices or Scott's expert recommendations.
When looking for a new canoe, I encourage you to stop by Hemlock Pete's and visit with Scott. You'll quickly realize that having grown up around canoes in the Adirondacks, he knows his stuff, understands the needs of someone looking for a new boat and will guide you to a choice you'll be happy with for many years, ... just as I have. Scott and Hemlock Pete's have my highest endorsement and I always recommend him to my friends"...
-- Joe Homer, Lancaster, NH